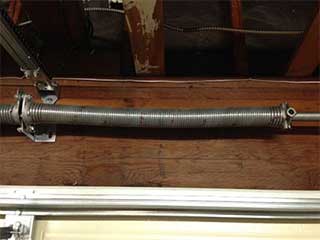 Some key but often overlooked components in your door system are the springs. Most doors have separate springs for opening and closing the door, and particularly heavy doors may even have several of each type. No matter how your system is set up, your springs are a vital part of the garage door and must be carefully looked after.
Taking Care Of The Springs
Like any moving mechanical part, springs need to be maintained on a regular basis. They must be cleaned, checked for signs of corrosion, and lubricated with silicone grease in order to keep wear and tear to a minimum. Our technicians are highly experienced when it comes to all aspects of maintenance, and can help extend your springs' service life by ensuring they're properly looked after.
Worn Out Springs
Maintenance can extend the life of your springs but they will eventually wear out. It's essential to replace the springs as soon as they start to weaken, since they can quickly become dangerous. Look out for a wobbly or sagging door, and check the door balance regularly. A typical spring might last anywhere from 5-10 years, but this can vary - contact our technicians if you think your springs might be starting to fail.
Replacing Worn Springs
Torsion and extension springs are under enormous tension. They have to be in order to lift a 150lb+ door. You should never try and work on them yourself, and should arrange for our team to quickly and safely replace a spring that's failed. Our technicians can provide a wide range of replacement parts, and will be able to quickly swap out a damaged or broken spring.
Arrange A Service Today
If your spring is showing any signs of wearing out, don't leave it to get worse. A broken spring can be very dangerous, so contact Garage Door Repair Douglasville as soon as possible to schedule an appointment.
Want more? Let us take care of:

LiftMaster Garage Door Maintenance

Door Opener Troubleshooting Services

Emergency Broken Spring Replacement

Residential Garage Door Replacement