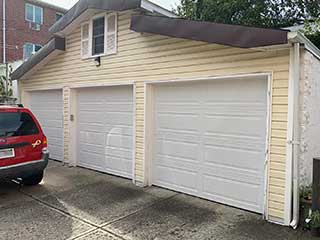 Naturally, any complex mechanical system will be susceptible to wear and tear over the course of its life. Your garage door is no different, and it can suffer from a wide range of issues. A lot of those can be prevented, however, if you make sure to have the system properly maintained.
Common Things To Avoid
While there are some maintenance aspects you can handle on your own, a lot of tweaks and minor repairs that need to be carried out as part of this routine should not be handled by amateurs. Something like spring tension adjustment, for example, can be very dangerous when it's mishandled, and can lead to serious bodily harm. However, it's an important aspect of regular maintenance, and it should not be neglected. This is why you should have our experts help you with your door's upkeep requirements.
Important Safety Tests
Your garage door opener plays a very important role, and the added security and convenience it offers are a great investment. However, if the unit isn't working correctly, it may be putting you at risk. That's why we incorporate safety feature testing into our maintenance routine. We make sure the alignment of the photo eye sensors is precise and that the auto-reverse mechanism is fully functional. If any of these features fails our tests, we immediately carry out the necessary adjustments in order to ensure that the opener is safe for you and your family to use.
Smooth and Silent Performance
Another added benefit that regular garage door lubrication maintenance offers is an improved performance. This is expressed not only in fewer issues, but also in the smoothness of motion the door exhibits, and in its noise output. A less noisy door will be more pleasant and won't feel like a clunking squeaking mess every time you use it, which is definitely a life quality improvement, if nothing else.
Prevent Problems, Increase Efficiency
There's no reason for you to accept problems as an inevitable part of owning an automatic door system. Our experts at Garage Door Repair Douglasville are here to help you avoid a wide range of issues and to ensure that you get the most out of the mechanism. Schedule an appointment today using our online system or give us a call directly.
We also take care of:

Garage Door Safety Inspections

Garage Door Cable Replacement

Belt Drive Opener Installation

Track Replacement & Repair