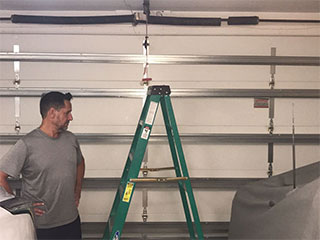 Your garage door may start acting up due to a variety of reasons. It can suffer from both mechanical and electronic malfunctions, and sometimes it can be very difficult not only to locate the source of the problem, but to repair it. Because this door can be very heavy, and a lot of its components are under a lot of stress, it can be very dangerous to try and handle a problem yourself. That's why you need to reach out to our experts whenever you find yourself facing a complex issue.
Broken Spring Repair
This is probably the most dangerous issue garage door owners may face. The springs are in charge of counterbalancing the weight of the panels, which means they are under tremendous tension, and when they break there's a risk of them whipping around violently and injuring anyone standing nearby. Replacing a broken spring can be not just complex, but terribly dangerous too, as it involves loading a new unit with tension. Our technicians are experienced in both extension and torsion spring replacement, and we can safely carry out any type of task involving these components.
Opener Motor Problems
Of course, the springs aren't the only parts that can break or malfunction. Your garage door opener is by no means impervious to damage, and many of its different components can fail after a while. The drive system itself or the motor can wear or break, and even the internal circuit board can start giving you some issues over time. Whichever part is involved, our technicians will be able to help. We're familiar with all the problems chain, belt and screw drive openers may experience, and we can safely replace everything from broken gears to trolley carriages without damaging other parts of the system in the process.
A Little Trouble Moving
If you start noticing that your door is making weird noises and seems to struggle every time it opens or closes, chances are there's something wrong with the rollers or the tracks, or both. These hardware parts are in charge of helping the panels move smoothly, and constant wear and tear will gradually cause them to degrade. We can straighten bent tracks and replace worn or broken rollers before the door ends up getting stuck, thus saving you a lot of time and hassle. Of course, if your door got off track, don't hesitate to get in touch with us to have our team help you with that emergency scenario.
Just Give Us a Call
We'll take care of everything else. There's no problem our team at Garage Door Repair Douglasville can't fix, regardless of which parts are involved. For more information, and for emergency repairs, don't hesitate to contact us.
Count on us for:

Roll up Garage Door Maintenance

Genie Garage Door Opener Services

Galvanized Torsion Spring Installation

Garage Door Cable & Track Repairs