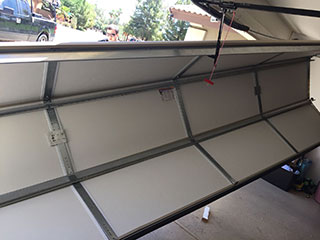 Want to up your curb appeal?
One of the fastest and easiest ways to give your home a fresh look is by having a new garage door installed. It may not have been your first thought as to what could spruce up the house, but if you think about it, it takes up a large portion of the front of your home. It also tends to stick out to neighbors and visitors if it looks busted up from storms or an accident. Make sure that everyone, including you, likes what they see instead! Our experts are happy to work with you to determine what model and color of door would look the very best with your home. Everyone will be surprised and delighted by how much more life it gives to the look of your house.
Don't risk a mediocre garage door installation.
If your garage door isn't installed properly, not only will it negatively affect it's functionality, but it could wind up looking terrible as well. Your new door should add to the look of your house, not detract from it. Trying to replace a door by yourself can lead to a disaster, and make your home look worse than it did before. It's not worth the risk. Be safe and have one of our trained technicians make sure that your door looks and works beautifully.
What about your opener?
While it may seem inconsequential to the overall appearance of your home, your opener can also take a toll on its appeal. A loud sound coming from your door every time it has to work is not attractive in the least, and nobody wants to hear it. Along with this, if your door gets stuck open thanks to a faulty opener, the only people your home will be enticing is thieves. Save your ears, as well as your belongings, and have our technicians install a new garage door opener instead.
Dazzle your neighbors!
Make one of the first things that visitors to your home see worth looking at, and call today to get a new, lovely garage door installed. We're eager to get a time set up that's best for you, and to get to work.